As is the case with most fields of work, songwriters tend to find inspiration from those who have already paved a way for themselves. Because the words of songwriting legends inspire so many, we look to them when we hope to do the same! And thankfully there are artists who are not only willing to share their lyrics with us but who are willing to share their personal advice as well. That said, we decided to break down some advice from these lyrics legends!
#1 Taylor Swift
Anything that happens in your life, positive or negative, can benefit your songwriting skills. A lot of people listen to music for lyrical content, looking for words and themes they can relate to. Vulnerability can be a beautiful attribute of songwriting. Songs can bring comfort in the midst of pain and remind listeners that they aren't alone. Taylor Swift embodies this concept well as she tells stories based on personal experiences to the writers' room – again, experiences both good and bad. 
#2 John Legend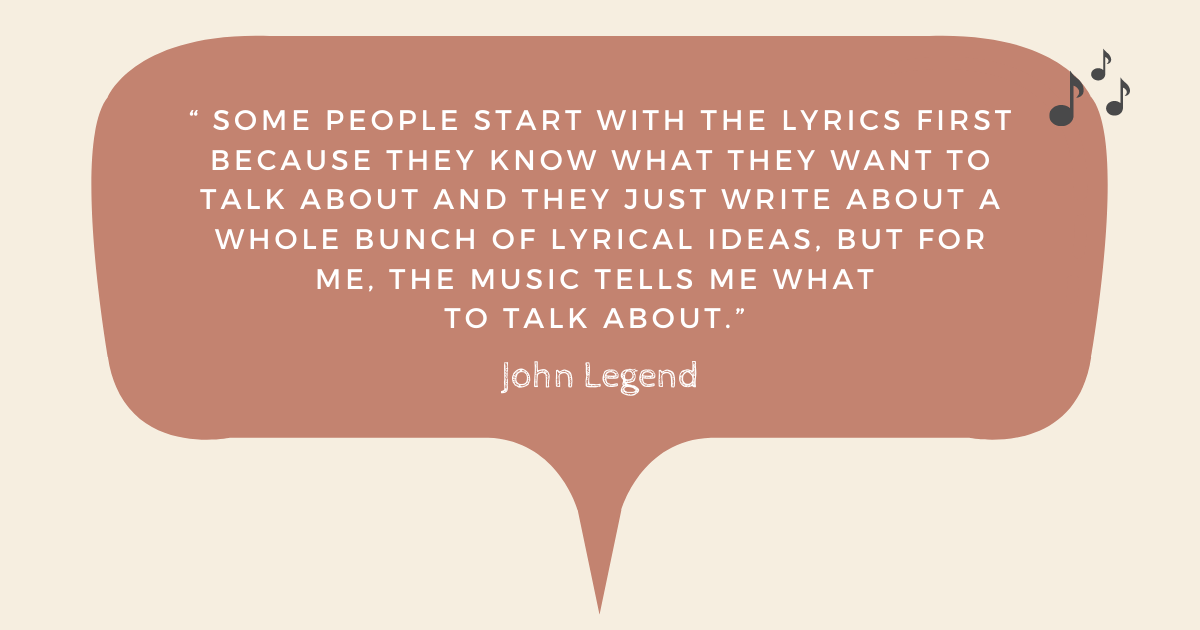 For John Legend, lyrics are best built around the melody of a song.  However, he does acknowledges that this is not necessarily what is most natural for everyone. However, regardless of what is most natural for you as a songwriter, Legend's way of writing is a great exercise for anyone looking to grow as a songwriter and no matter what, he shows the importance of having the lyrics of a song and the melody tell the same story.
#3 Dolly Parton
"It's therapy. It's fun. It's creative." Dolly Parton has both a humble and motivating take on songwriting. If you're an artist who consistently struggle to continue songwriting- engrave this quote into your mind! Though Dolly has had incredible success in the music industry, music is still something that's fun to her, making it seem as if she puts no pressure on herself to treat her work as a job, but rather an opportunity to be creative and have fun. Many artists should take note of this, as it is factual that forcing yourself to create content, as well as taking the fun out of it will diminish the quality of your overall product when it's all said and done. Though she would acknowledge that a significant amount of work is put into her artistry, she also encourages having fun throughout the process. 
#4 Jimi Hendrix
Our next quote comes from the legend himself, Jimi Hendrix. This is a rather interesting take from Hendrix, particularly how he brings up science fiction. What he shows, however, is how artists find inspiration from a variety of sources.  Songs have specific titles and words for a reason, and often stem what is currently inspiring an artist. So, what's been inspiring you lately?! If nothing comes to mind, you might just want to try some science fiction!
#5 Seth Mosley
Our last quote comes from Grammy-award winning artist Seth Mosley. This is basically a way of saying if you don't keep yourself accountable, you shouldn't expect to see improvement in your craft. When going to the gym and starting a workout routine, you need to push yourself and stay consistent with what you're doing. If you go to the gym and one day decide to stop going, you're going to halt your progress. The same goes with songwriting. So keep yourself accountable to not only starting your songs, but finishing them. If you're already disciplined in other areas of your life, this might be easier for you than others. 
It can be hard to stay inspired to keep songwriting, but hearing from those who have paved the path before us can be greatly encouraging! Getting to learn from those who have accomplished great things in life is a privilege and can be super helpful for taking steps toward your goals. So let this be a starting point! If you want to make songwriting a career, research and learn from music industry professionals! Maybe even check out the Made It In Music Podcast! And maybe, one day, you'll be the one being quoted by those who you've inspired through your work and success.